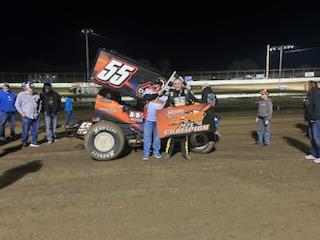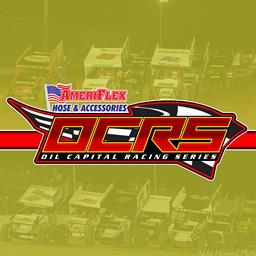 11/5/2023
Oil Capital Racing Series
---
Kent crowned 2023 AmeriFlex OCRS champion at Caney Valley Speedway
John Rittenoure - CANEY, Kans.. (November 4, 2023) - Over the last 22 years Johnny Kent has driven through a lot of highs and lows while logging a lot of laps behind the wheel of a sprint car. But Saturday at Caney Valley Speedway Kent had a career night he will not forget.
Kent captured the 2023 AmeriFlex Hose & Accessories OCRS Sprint Car championship with a fifth place feature finish in Saturday's season finale.
"It has been a long time coming. I never figured we would be standing here," smiled newly crowned OCRS Sprint Car champion Johnny Kent. "We don't race on a very big budget and Kevin came on board the last couple of years and helped us with our program tremendously.
"I have 22 years in now an it is pretty cool to come out of our shop. Everybody is stoked. I have 22 years and my dad had 20. That is 42 years, it is a surreal moment."
Consistency was the key for Kent with 18 top 10 finishes in 21 events. Kent also picked up a victory on August 19 at Elk City Raceway Park giving him five career OCRS wins.
Kent held the points lead most of the season over fellow veteran driver Danny Wood of Norman. Wood did grab the points lead late in the season, but Kent took it back the next week and came into Saturday's show with a 34 point lead. Wood started on the pole of the feature Saturday while Kent was sitting outside second row. Kent fell to fifth on lap 17 after challenging Wood early on, and Wood remained in second. The result was a title for Kent by 26 points.
"We just chipped away at it and had a really good run all season," Kent said. "Me and dad just try and go race overnight and feel the points will take care of themselves at the end of the season. That way you don't get into that point racing. Tonight was a little different with a 35 point lead and I had room for 11 spots between me and him (Wood).
"I would have liked to go out and win and put an exclamation point on it. We just kept our nose clean and just keep him in sight.
"I got a really good start early on, but the track fooled us a little bit. I thought it was going to be a little bit better than it was. We had a solid top five car."
Just two months ago Kent had some engine issues that could have ended his title hopes, but thanks to another car owner Kent was able to continue.
"We had some engine issues in past years and we hurt our engine in the Iron Man this year," recalled Kent. "Kelly Fode put an engine in our car and I have to think him as well. That was a big help or we might be sitting on the sidelines again."
Afterwards Saturday Kent thanked OCRS owner and Caney Valley Speedway promoter Kerry Corby and AmeriFlex Hose & Accessories owner Corvin Robison for their efforts this year.
"Kerry had a great track tonight and I have to thank Corvin Robison for all he does," said Kent. "If it was not for him we don't get to race for the money we race for."
---
Article Credit: John Rittenoure
Back to News