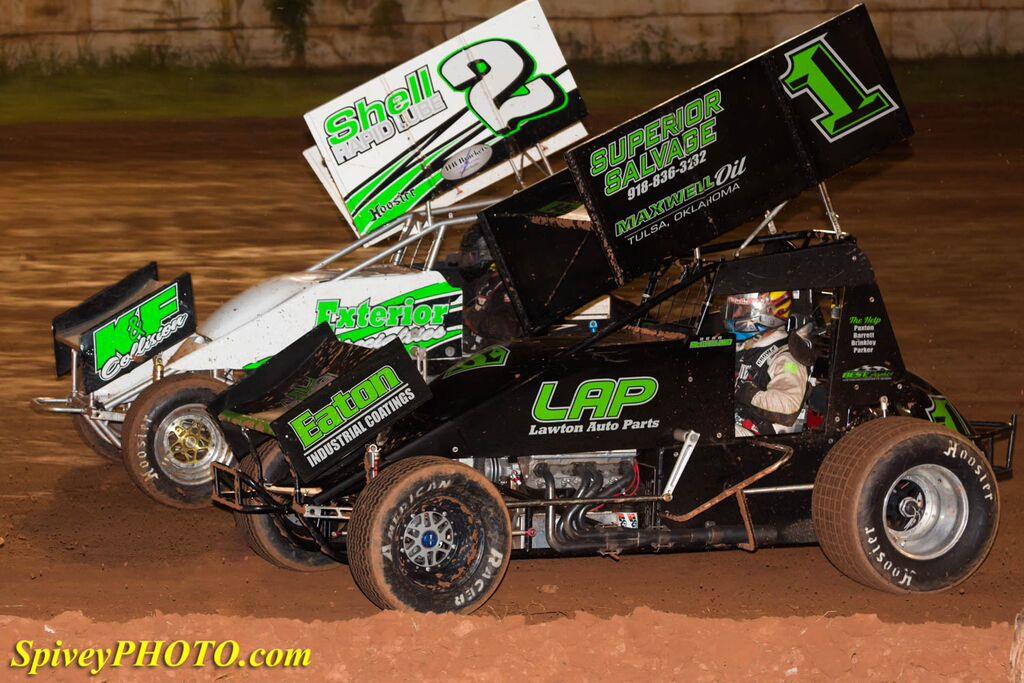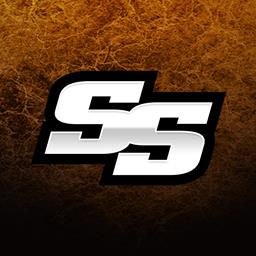 ---
'DIRTY 30' & FIREWORKS @ CANEY VALLEY SPEEDWAY SATURDAY
Dirty 30 and Fireworks Saturday at Caney Valley Speedway
Pictured:
Mike Spivey captured this colorful shot of Sean McClelland (1) and Whit Gastineau (2w) in action.
John Lemon
OCRS Public Relations
Tulsa Okla. (July 1, 2015) – Fireworks and Sprint Car racing are packaged together at the Caney Valley Speedway in Caney Kansas this Saturday night for the 4th of July holiday. The "Dirty 30" sprint car event from the Ameri-Flex Hose & Accessories / Oil Capital Racing Series will be followed with a colorful fireworks show presented by Jake's Fireworks.
Ameri-Flex / OCRS points leader Robert Sellers, who visited victory lane for the fourth time in 2015 when he took checkers at the Brill Motor Speedway last weekend, will look to pad his pockets with another $1500 with a win at Caney Valley. There will be a minimum of 250 portraits of George Washington awaiting each driver that starts the Dirty 30 main event.
Sellers has only failed to finish in the top five twice in the nine events held thus far on the schedule. Caney Valley Speedway was one tour stop that the top five eluded Sellers as he took a sixth on a May 2nd visit in a race won by Jamie Passmore. Caney Valley Speedway is the track Passmore won his first ever A-Feature in a sprint car some 20 years ago.
Brian McClelland has a handle on the second spot in the standings as he holds an 86- point cushion over third place driver Casey Wills (637 - 551). The battle for third place in the standings isn't so comfortable. Wills is only three markers ahead of fourth place Brett Wilson, 13 ahead of fifth place Sheldon Barksdale and just 20 points ahead of sixth place Brent Bates. A heat race win alone is worth 16 points.
As for the balance of the top 10 in points, Shane Sellers (7th), Whit Gastineau (8th), Sean McClelland (9th) and Cameron Hagin (10th) are all within 29 points (or less) of one another.
Caney Valley Speedway always has a flourishing Independence Day turnout thus come early for the seating preference of choice for this special event. The Ameri-Flex / OCRS sprint cars will bring the thunder while Jakes Fireworks brings the aerial explosions.
Nutz n' Boltz
Fan Support:
At the Brill Motor Speedway last Saturday night, race fan Kenneth Robison II provided support in a way he could to the series. First he added an extra $100 to the Action Auto Collision Hard Charger Award. This bumped the award to $200, a new high for one event. Robison then proceeded to buy 5 Ameri-Flex / OCRS t-shirts and pass them around to kids in the crowd. On behalf of the Ameri-Flex / OCRS series, THANK YOU Kenneth Robison for your support.
Tag Note:
Robison is employed by Dooling Machine Products, which has locations in Hartford Illinois and Wynnewood Oklahoma. DMP's owner is Joe Dooling who is the 2014 winning Chili Bowl car owner with Bryan Clausen at the wheel. DMP is also sponsoring the 2015 Ameri-Flex / OCRS 'Oklahoma State Championship' event at the Oklahoma Sports Park on September 12th.
Bookout Plows Through:
Michael Bookout worked his way through the field last weekend to earn the $200 Hard Charger Award. Bookout finished fifth after starting seventeenth. Bookout had an STK Racing Engine under the hood for the first time as the team leased a bullet from the Morton Racing Team while their own motor is in for service. Not bad for a $29.95 rental. Careful of the mileage, that's where they get you.
The Fans Are Alright:
The Ameri-Flex / OCRS series returned to Brill Motor Speedway for the first time last Saturday since the re-opening of the track after it closed in 2013. Mark Brill and his staff had the track in great shape. The fan turnout was awesome! Not only were there multiple bodies in attendance, series officials took note of the large number of fans who were sporting Ameri-Flex / OCRS shirts as the attire of choice. Gotta love the fans!
Its All Attitude:
Morgan Fletcher had a day he could ask for a do over on. Here is his own recap as posted on his Facebook page:
"Complete recap from yesterday, probably the worse race day in history haha.
Starting with the beginning of the day, around 9:30 am, my grandpa and I were getting the RV ready. We were draining the sewer tank and the hose started going all over the place and I ended up getting sewer all over my hands. Next, we got everything loaded by 1:30 and headed out. Then, we noticed the RV was blowing out straight hot air; it was going to be a long trip. So as we were passing Loves out of Lawton, a trailer tire blows out.
We ended up having to come back into Lawton and having to replace all the trailer tires and didn't actually get to leave Lawton until 4:00 pm. We finally get to meeker, and everything starts to lighten up. Drew number 8, it put me in the 3rd heat on the pole. I ended up finishing 3rd in the heat. For the feature, I started 5th row inside. The race was going okay, I fell back a few spots and I was starting to recover. I don't know what lap it was, but I was coming out of 1 and a dude spun out about mid way high on the turn and I was on the bottom. I slowed down and hit the brakes. As soon as I hit the brakes, the car pulled me down straight into the tractor tire...... And there I went, flipped one full rotation and landed on my side. The car isn't hurt too bad, it just bent a things. I am doing great and thank you everyone that has checked on me. We'll get it fixed and I'll be ready for next weekend."
This young man was all smiles as he collected his pay at the end of the night. Series officials weren't aware of all the endeavors Fletcher encountered getting to the track until his post, but based on his mannerism at the track, one would have never known. It's all in the attitude. Your welcome back anywhere, anytime, young man.
Time Out:
There was an unfortunate incident involving Sean McClelland and Joseph Miller last weekend and due to social media, most everyone who follows the series in some form or fashion has witnessed it. McClelland is suspended for the next two Ameri-Flex / OCRS events. There are some who seem to make this issue bigger than what it is. Simply put, a mistake was made and all parties look to move forward.
Issues calling for suspensions are as old to racing as rubber tires. The Ameri-Flex / OCRS series hasn't given a time out to a driver for improper actions since 2010 when a steering wheel was used as a Frisbee. This matter will all be placed behind us and we now go back to playing nicely.
Its time to celebrate our nations independence. Bring your best ooohhs and ahhhhs.
What: Ameri-Flex / OCRS Sprint Car "Dirty 30" and Fireworks Show
Where: Caney Valley Speedway / Caney Kansas
When: Saturday July 4, 2015
Time: Gates open at 5p / Hot laps at 7:00p / Racing begins at 7:30p / OCRS drivers meeting at 6:30p
Track Phone: (620) 330-0485
Track website: www.caneyvalleyspeedway.net
The track is easy to locate, as it is just 0.8 mile west of the junction of US 75 and US 166 on CR 1600.
The always exciting Ameri-Flex / OCRS sprint cars…………

About the Ameri-Flex Hose & Accessories / Oil Capital Racing Series -
Established in 2002, the Ameri-Flex / OCRS series sanctions dirt track sprint car racing in the southern region of the central plains with its headquarters in Tulsa OK. Events are typically held at racetracks in Oklahoma, Kansas, Missouri and Texas with an average of 22 race dates per season. Series champions include: Jamie Passmore (4), Sean McClelland (3), Mike Goodman (3), Harli White and Andrew Deal (1 each).

Website: www.ocrsracing.com
You can also checkout our Facebook page at: https://www.facebook.com/oil.series

 
About Ameri-Flex Hose & Accessories-
Located in Tulsa OK, Ameri-Flex Hose & Accessories is a family owned and operated company. From food grade hose to hoses for the petroleum industry, Ameri-Flex will strive to fill your needs. Ameri-Flex can build a hose to your specifications or we will assist you in creating what you have designed while you wait. Ameri-Flex has several hard to find items that some vendors can't get or find. Product can be shipped quickly and efficiently. If we do not have what you are looking for, we will direct you on where to find it. Give us a try, after all…………..

Ameri-Flex Has The Stuff That Keeps You Going!
Website: www.ameriflexhose.com

---
Article Credit: John Lemon
Submitted By: John Lemon
Back to News