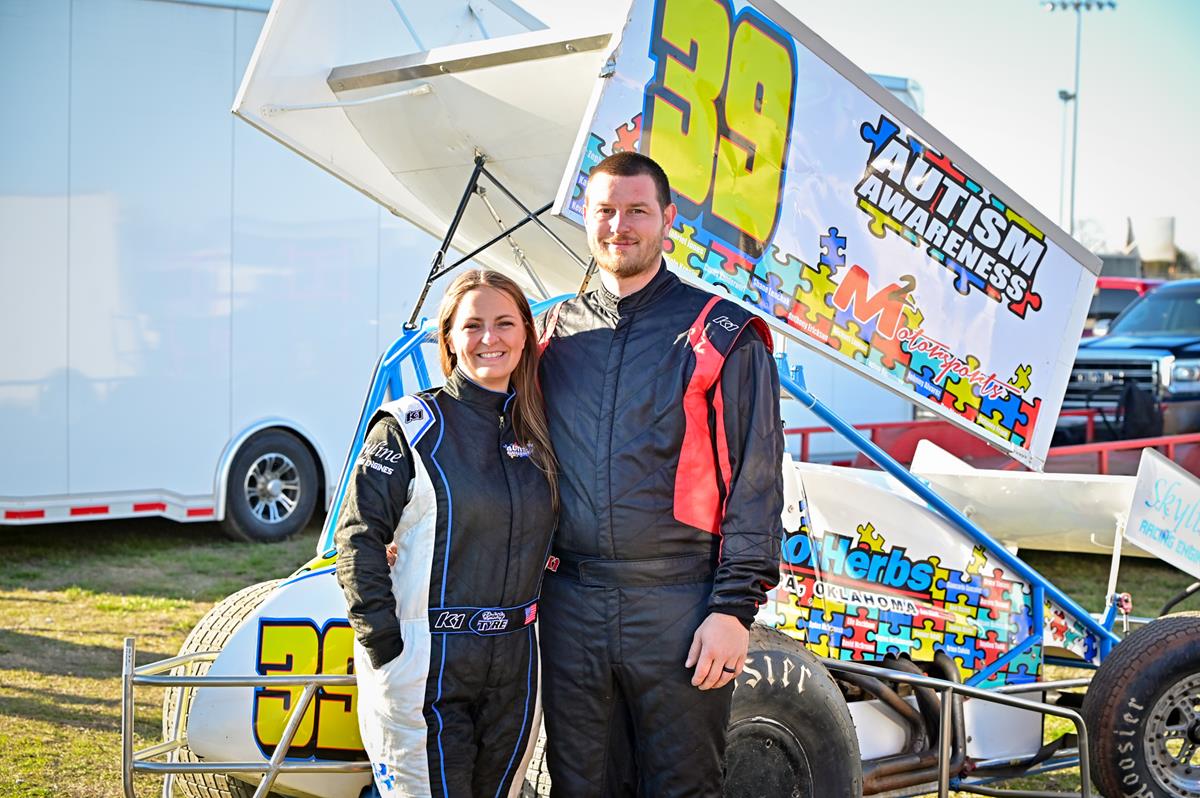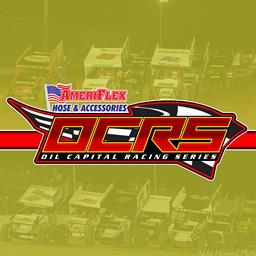 3/23/2023
Oil Capital Racing Series
---
Josh and Kimberly Tyre become first married couple in OCRS competition
(Photo by Danny Clum) John Rittenoure - TULSA, Okla. (March 23, 2023) - It has been a few years since Josh and Kimberly Tyre have raced against each other. Saturday at Tulsa Speedway (March 18) they became the first married couple to race in OCRS competition.
With two sprint cars sitting race ready for the first time in two years, and a race scheduled for Tulsa Speedway, the lure was too much to resist.
"It is something we have wanted to do for awhile,"Josh said of at the desire to race. "We tried to do it in 2021 and she got pregnant and could not race. We ended up putting someone else in the car. Then we destroyed one of them and that put us behind a year and a half.
"I got the chassis back last Friday and we thrashed to get the motor put in before Meeker last week."
It was a rare opportunity for the two to race together. Their racing plans will not cross paths much this summer.
"She is going to run the USL non-wing deal and select wing shows, and I will race whenever I feel like racing," said Josh who will also work as the new ASCS Sooner Region Competition Director. "I will run a little wing, non-wing and work (ASCS Sooner shows)."
More than just racing in the same show, Josh hopes they end up in the same race.
"I hope we end up in the same heat," he said. "It will be fun."
"He is pretty motivating most days and wants me to beat him," smiled Kimberly. "But I drew 60 of 60 so we will see. I won't cut him any slack.
"I am looking forward to it. It is the first time we have kind of got back in the seat together and we are ready for it."
As it turned out they were in different heats and different features. Kimberly earned bragging rights finishing 14th in the A-Main while Josh was 9th in the B-Main.
It took a little prodding from Josh to convince Kimberly to race with him.
"It took a lot of convincing on my part. I am pretty committed to the USL series," Kimberly said. "The car was sitting ready so we decided to bring mine also.
"It is a little cold, but nothing beats a racing addiction."
Kimberly loves sprint car racing but feels more at home without a wing.
"I love the non-wing," she said. "The non-wing is a little more challenging for me to understand because my first full season in a sprint car was with a small wing. I will just pick and choose some OCRS events.
"It will be a packed race season. With me running a full schedule and Josh running OCRS full time and Sooner region in-between. It makes for a busy race season."
Kimberly recalled a time they were running mini stocks at Creek County Speedway and she got the best of Josh.
"Back in our mini stock days there was one race we raced together and he kept chopping my nose off and I ended up spinning him out and beating him," Kimberly recalled. "He has never lived it down."
Kimberly started racing as a teenager in Junior Mini Stocks then moved to Front Wheel Drive before eventually moving to sprints.
"It was 15 years ago. I ran them for three seasons," Kimberly said of the front wheel drive car. "We got married, we had a daughter and I took six years off from driving a car then he got me back in a mini stock and been back ever since."
Kimberly never thought she would race sprints, but now you can't get her out of one.
"I told him (Josh) I would never get in a sprint car, they intimidated me and did not want any part of it," she said. "I love modifieds. One day after the season ended at Creek I said lets take your sprint car to the track. I ran some laps and have been in a sprint car ever since."
---
Article Credit: John Rittenoure
Article Media
Back to News