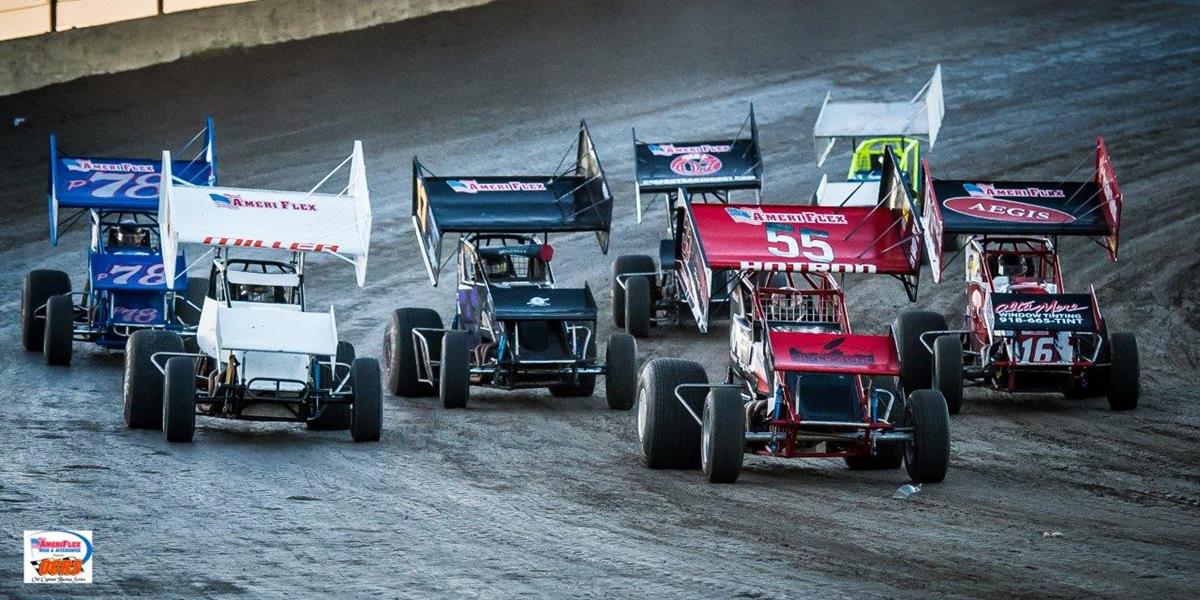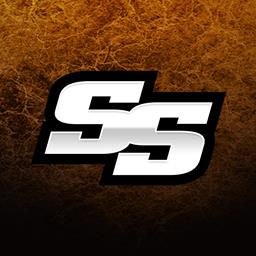 ---
SUMMER SPRINT SHOOTOUT & MID SUMMER CHALLENGE THIS WEEKEND
Summer Sprint Shootout @ Southern Oklahoma Speedway
Mid-Summer Challenge @ Oklahoma Sports Park
Pictured:
Ameri-Flex / OCRS sprint cars in action
Kent Bergman Photo
John Lemon
OCRS Public Relations
Tulsa Okla. (July 20, 2015) – The summer season has reached its midpoint as has the sprint car season of the Ameri-Flex Hose & Accessories / Oil Capital Racing Series. This weekend will see the adrenalin junkies perform their magic on not one but two great racing programs.
First up is the 1st Annual Summer Sprint Shootout at the Southern Oklahoma Speedway in Ardmore Oklahoma. Promoters John & Nicky Webb have assembled an all sprint car program featuring the Ameri-Flex / OCRS sprinters along with the Sprint Series of Texas 305 sprint cars and the non-winged E-Sprints that will run as a non-sanctioned class.
The Ameri-Flex / OCRS sprint cars will compete for $1500 to win the 25-lap feature. This will be the second stop to SOS by the Ameri-Flex / OCRS series in 2015. Broken Arrow Oklahoma's Nigel Calvert won the season opener back in March. That's three sprint car classes in one night of fantastic racing.
Oklahoma Sports Park in Ada hosts the wild dirt devils the very next night in the Mid-Summer Challenge. Well known as one of the fastest tracks on tour, the Oklahoma Sports Park consistently churns out some of the most exciting events the Ameri-Flex / OCRS series offers.
Gary Owens will be a solid favorite to score a main event win at OSP as he rises to the occasion when the open wheel machines visit George Welch's playground. Last month, Owens won the Harold Leep Jr Memorial for the third year in a row. Owens also has one Oklahoma State Championship crown on the 4/10 mile oval as well.
Nutz N' Boltz
Fenderless:
Promoters John & Nicky Webb decided on promoting the "Summer Sprint Shootout" as a way to hold a unique style of racing format for their south central Oklahoma track. For those race fans that beckon to see all open wheel shows, this is your time. With a good showing on both sides of the fence, the Webb's will look to offer more of these events in the future. Your living room couch is hereby out of order Friday night.
It's All In A Name:
Seems one way to increase your chances of winning an Ameri-Flex / OCRS main event is to have the last name of Sellers. With Shane's win last Saturday at the Salina Highbanks, the Sellers boys have seven wins between them this season. Shane's Highbanks score was his second while Robert has five such triumphs. They have won the last four events with both scoring twice in those.
I'm Still The Teacher:
While both of the Sellers boys are having great success in 2015, dad (Robert) is still the professor. With a possible 95 championship points per night available at each event, Robert has scored as average of 80.02 points while Shane has tallied an average of 66.55. There are additional classes to attend prior to the off-season break young man. Study those set up books.
Get Ready – Mines Coming:
Zach Chappell came to the Ameri-Flex / OCRS series after the first four races of the year were ran. His first time out, he had mechanical woes in hot laps and never turned a competitive lap. Since then, he has methodically figured out his Maxim / Dyno Services of Oklahoma chariot. This is evidenced by his runner-up finish last weekend. That first Ameri-Flex / OCRS victory is looming near.
Come Hang At Our Crib:
When Shane Sellers rolled his car at Humboldt, the Nigel Calvert team offered their Tulsa area shop for Sellers to make repairs. With that aide, Sellers won that day at Salina to which, Sellers gave credit to the Calvert's in victory lane for their hospitality. Tip 'em well.
Love Those Border States:
Shayla Waddell and crew chief Nick Newton are beginning to find some rhythm. Waddell was a runner-up to Robert Sellers at Humboldt Kansas last Friday after leading the first half of the race. It was Waddell's best finish since a fourth at the 'Hummer' last July. Prior to that, her best finish was a runner-up to Michael Bookout at Monnet Missouri in June of 2014. Waddell seems to shine in border state racing.
Squeeze Play = Hard Charger:
Sean McClelland was an innocent victim in the Boyd's Racing Engines heat race at Salina. McClelland was on the outside of two cars when the middle car swung outward just enough to make contact with McClelland which put the former champion into the wall. Starting 19th in the main event, McClelland charged his way to a sixth place finish earning him the Action Auto Collision Hard Charger award.
The weekend schedule for the Ameri-Flex / OCRS sprint car series looks like this:
FRIDAY……….
What: 1st Annual Summer Sprint Shootout
When: Friday July 24, 2015
Where: Southern Oklahoma Speedway / Ardmore, Oklahoma
Time: Gates open 5pm / Hot Laps 7pm / Racing 7:30pm
Ameri-Flex / OCRS drivers meeting 6:30pm
Phone: 405-627-1766
Website: http://www.southernoklahomaspeedway.com
Directions from Interstate 35:
Take exit 29 and proceed east approximately ½ mile to Hwy 77
Turn south onto Hwy 77. Racetrack is approx. 2 miles on right.
SATURDAY………
What: Mid-Summer Challenge
When: Saturday July 25, 2015
Where: Oklahoma Sports Park / Ada Oklahoma
Time: Gates open 5pm / Hot laps 7pm / Racing 7:30pm
Ameri-Flex / OCRS drivers meeting 6:30pm
Oklahoma Sports Park is home to a 4/10-mile clay oval track and is located just 10 miles northwest of Ada, Oklahoma on state highway 3W.
Track Phone: 580-332-5535 (Promoters Phone: 580-332-5383)
Website: http://www.oklahomasportspark.com
It's Time To FEEL The Thunder!
About the Ameri-Flex Hose & Accessories / Oil Capital Racing Series -
Established in 2002, the Ameri-Flex / OCRS series sanctions dirt track sprint car racing in the southern region of the central plains with its headquarters in Tulsa OK. Events are typically held at racetracks in Oklahoma, Kansas, Missouri and Texas with an average of 22 race dates per season. Series champions include:
Jamie Passmore (4), Sean McClelland (3), Mike Goodman (3), Harli White and Andrew Deal (1 each)
Website: http://www.ocrsracing.com
About Ameri-Flex Hose & Accessories-
Located in Tulsa OK, Ameri-Flex Hose & Accessories is a family owned and operated company. From food grade hose to hoses for the petroleum industry, Ameri-Flex will strive to fill your needs. Ameri-Flex can build a hose to your specifications or we will assist you in creating what you have designed while you wait. Ameri-Flex has several hard to find items that some vendors can't get or find. Product can be shipped quickly and efficiently. If we do not have what you are looking for, we will direct you on where to find it. Give us a try, after all…………..
Ameri-Flex Has The Stuff That Keeps You Going!
Website: http://www.ameriflexhose.com
---
Article Credit: John Lemon
Submitted By: John Lemon
Back to News