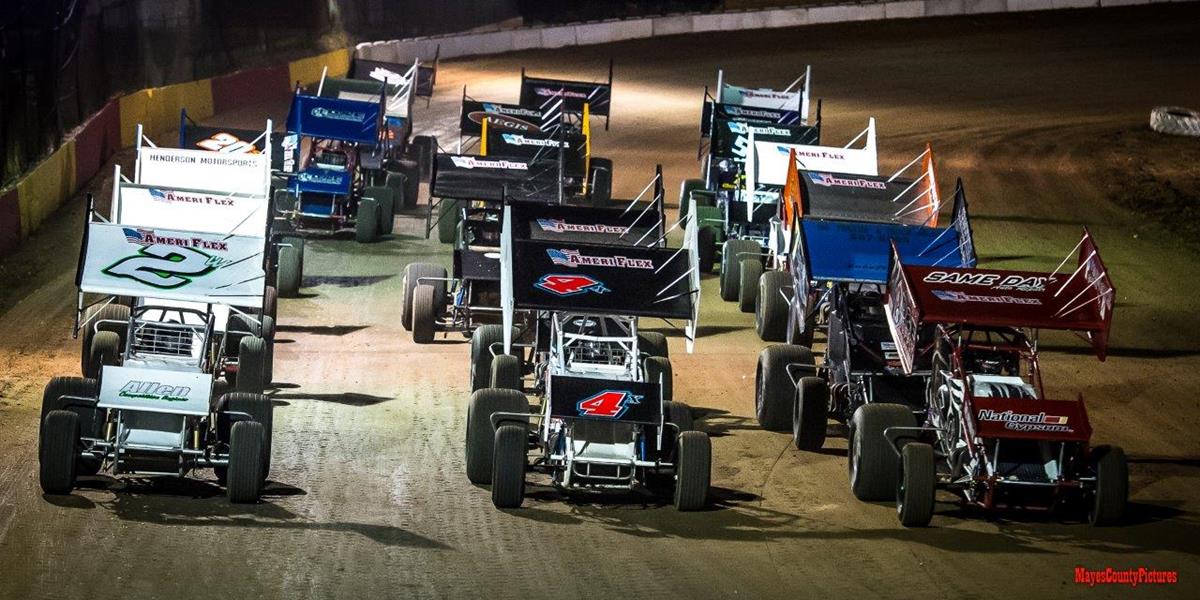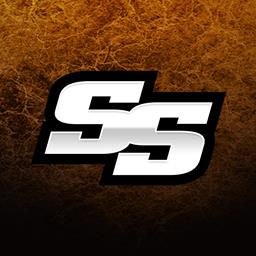 ---
DOUBLE TROUBLE: HUMBOLDT SPEEDWAY & SALINA HIGHBANKS PREPARE FOR SPRINT CAR INVASIONS
Humboldt Speedway & Salina Highbanks This Weekend
First of Three Straight Weekly Doubleheaders
Pictured:
Ameri-Flex / OCRS sprints in parade formation
Kent Bergman Photo
John Lemon
OCRS Public Relations
Tulsa Okla. (July 14, 2015) – The Humboldt Speedway in Humboldt Kansas will host the Ameri-Flex Hose & Accessories / Oil Capital Racing Series sprint cars this Friday night and then on Saturday night, the series moves to the Salina Highbanks Speedway in Salina Oklahoma for a mid-summer doubleheader. This will be the first of three straight 'doubles' as the traveling sprint car series shifts into high gear for the chase of the Harold Leep Championship Trophy.
'The Hummer' has been one of the favorite venues among the racing teams of the Ameri-Flex / OCRS series with its smooth track surface and efficient track staff. There is a $500 bonus to the driver that wins the Friday night show courteously of Ameri-Flex. A-Feature starters will collect a minimum of $250 from Ryan & Rhenda Whitworth, Humboldt's long time operators.
Saturday night will see the open wheel warriors tackle the Salina Highbanks for the first time this season after a May rainout derailed the 2015 debut. Fans can expect some of the same high speed, high intensity racing action that only the Highbanks can produce as with prior visits. Anyone who has been to the Highbanks knows all to well why it is a must see facility.
Set-ups on the racecars at the Highbanks are like no other. Lap times can improve with good solid set ups unlike any other track. As for the fans, a trip up stairs to the air-conditioned Finshline Restaurant for a refreshing cool drink and good food is tempting at its best. Check with the speedway for pricing and details.
So it's the Hummer and the Highbanks awaiting patrons from all over the land to rush their gates, find their place to establish squatter rights and enjoy some of the best sprint car racing action the Ameri-Flex / OCRS series can deliver.
Racing at the Hummer begins at 8pm while the Highbanks fires off at 7pm.
Nutz n' Boltz:
The Man Is Still Respected:
The Ameri-Flex / OCRS series just recently began searching for lap sponsors for the upcoming Harold Leep Classic to be held August 28th at the Outlaw Motor Speedway. The racing fraternity showed how much the Leep name still resonates as the laps were all taken within days. Make no mistake about it; Harold Leep may be hanging out at Heaven Speedway, but he is still respected on earth to this day.
Golden Anniversary In Sight:
Tulsa's Len Larkin will reach a feat that is extremely rare in all of racing next season. 2016 will be the 50th year Larkin will strap into a racecar and compete on the oval tracks within the region. A feat very few racers of any type of auto racing can lay claim to. When Larkin rolled his Mean Green 13 machine onto the Caney Valley Speedway on the 4th of July, it marked 30 years ago to the day that Larkin first raced at the ¼ mile bullring.
Progress In Results:
2015 Ameri-Flex / OCRS rookie driver Joseph Miller was quite a happy camper at the conclusion of the Caney Valley event. No, he wasn't in victory lane, he finished 10th. So why was he happy? It was the first top 10 finish for the Arkansas traveler and he did so in only his 10th sprint car race with the Ameri-Flex / OCRS series.
Hot Damn – Gotta See More of Those:
The 4th of July race at Caney climaxed with a finish that we all dream to witness. Michael Tyre lead the majority of the race running strong on the lower end of the track and on the last lap, Shane Sellers swept wide out of turn four and beat Tyre to the line by .032 seconds(half a wheel). It wasthe official closest finish in series history. The fans were totally thrilled at what they had just witnessed.
Head Held High:
While Tyre's almost win was a disappointment, the Glenpool OK driver took satisfaction that he ran strong against some of the best champ sprint drivers in the state. As well he should. After a few restarts, there were numerous opportunities to overtake Tyre, but he withheld challenge after challenge, till the last 24 inches.
My New Best Friend:
Action Auto Collision recently came on board as the new Hard Charger sponsor for 2015. It is one of the awards the series offers that pays cold hard cash. In the two races held since company owner Rob Forehand graced the series with his support, Michael Bookout has collected both times. Forehand has now become Bookout's new best friend. Who says money cant buy friendships?
Branching Out:
Lawton Oklahoma pilot Morgan Fletcher ventured out a few miles to Brill Motor Speedway recently and has now indicated to Ameri-Flex / OCRS officials of his intentions to attend the Salina Highbanks Speedway this Saturday. Looks like the wings of the Fletcher Racing sprinter are taking the team to new territories. Land in our backyard anytime Mr Fletcher.
After a week hiatus, it's time to saddle back up, hit the road and sling some clay. Here's a look at the weekend itinerary:
Humboldt Speedway:
What: Ameri-Flex / OCRS Sprint Cars
Where: Humboldt Speedway / Humboldt Kansas
When: Friday July 17, 2015
Time: Grandstand gates open at 6pm / Hot Laps at 7:30pm / Racing at 8:00pm
(OCRS drivers meeting is at 7:00pm)
Tickets: $15 (13yrs & up), $5 (6yrs – 12 yrs), 5yrs & under free.
Phone: (620) 473-3694
Website: www.humboldtspeedway.com
Directions: From Highway 169 - Take the Humboldt Exit #224, go west 1 block to electric station then turn left. Proceed to stop sign, turn left. Go 1 mile to Speedway
Salina Highbanks Speedway:
What: Ameri-Flex / OCRS Sprint Cars
Where: Salina Highbanks Speedway / Salina Oklahoma
When: Saturday July 18, 2015
Time: Gates open at 5pm / Hot laps at 6:30pm / Racing begins at 7pm
(OCRS drivers meeting at 6:00pm)
Tickets: General Admission: $15 / Kids 7-12 yrs. $10 / Kids 6 yrs & under free
VIP: $25 / Beer Garden: $15
Phone: (918) 434-RACE (7223)
Website: www.salinahighbanksspeedway.com
Directions: The track is very easy to locate as it sits directly on Highway 20 between Pryor and Salina Oklahoma.
The always exciting and entertaining Ameri-Flex / OCRS sprint cars…………

About the Ameri-Flex Hose & Accessories / Oil Capital Racing Series -
Established in 2002, the Ameri-Flex / OCRS series sanctions dirt track sprint car racing in the southern region of the central plains with its headquarters in Tulsa OK. Events are typically held at racetracks in Oklahoma, Kansas, Missouri and Texas with an average of 22 race dates per season. Series champions include: Jamie Passmore (4), Sean McClelland (3), Mike Goodman (3), Harli White and Andrew Deal (1 each).

Website: www.ocrsracing.com
You can also checkout our Facebook page at:
 https://www.facebook.com/oil.series

About Ameri-Flex Hose & Accessories-

Located in Tulsa OK, Ameri-Flex Hose & Accessories is a family owned and operated company. From food grade hose to hoses for the petroleum industry, Ameri-Flex will strive to fill your needs. Ameri-Flex can build a hose to your specifications or we will assist you in creating what you have designed while you wait. Ameri-Flex has several hard to find items that some vendors can't get or find. Product can be shipped quickly and efficiently. If we do not have what you are looking for, we will direct you on where to find it. Give us a try, after all…………..

Ameri-Flex Has The Stuff That Keeps You Going!
Website: www.ameriflexhose.com

---
Article Credit: John Lemon
Submitted By: John Lemon
Back to News