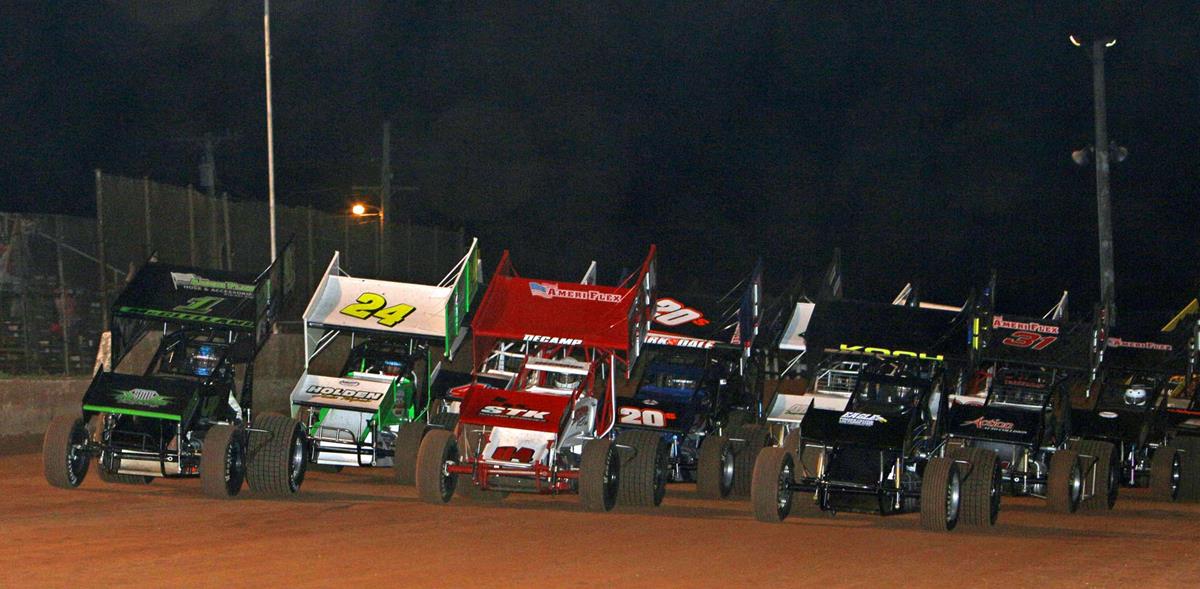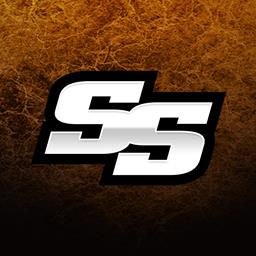 ---
JUST ADDED: 1ST ANNUAL SUMMER SPRINT SHOOTOUT JULY 24TH
Southern Oklahoma Speedway Presents: 1st Annual Summer Sprint Shootout
Ameri-Flex / OCRS Sprint Cars To Headline Sprint Car Special
Sprint Series Of Texas Sprints & E-Sprints On Docket
Pictured:
Ameri-Flex / OCRS sprints to headline 1st Annual Summer Sprint Shootout
Mike Howard Photo
John Lemon
OCRS Public Relations
Tulsa OK (July 8, 2015) - Southern Oklahoma Speedway has just put together an exclusive all sprint car program for their Ardmore Oklahoma facility. The program has been titled the '1st Annual Summer Sprint Shootout' and will feature the popular Tulsa Oklahoma based Ameri-Flex Hose & Accessories / Oil Capital Racing Series sprint cars. In addition, the Sprint Series of Texas, a 305 sprint car class, will be in action along with the E-Sprints, which will run as a track sanctioned class. The date for the '1st Annual Summer Sprint Shootout' is set for Friday July 24th.
"This is something I've thought about for awhile," stated track owner John Webb. "I have had enough sprint car teams tell me they would like a show like this and I thought I would do it since it's something different (for us)."
The Summer Sprint Shootout will be the third all open wheel program involving the Ameri-Flex / OCRS series since last year. The Salina Highbanks Speedway (Aug. 2014) and the Outlaw Motor Speedway (April 2015) also held all open wheel racing programs featuring the 360 cu in winged sprint cars.
"These types of events are good to change things up now and then," commented series owner Barry Grabel. "While we have been part of programs featuring all open wheel race cars as of late, this will be the first all sprint car show we have been a part of in a long time. I'm encouraged that the Southern Oklahoma Speedway is interested in this style of format. Not just on July 24th, but as an annual event based on the success of the program. We will surely look forward to doing our part to aide in that endeavor."
The addition of the Summer Sprint Shootout will make for a doubleheader weekend for the Ameri-Flex / OCRS series as the Oklahoma Sports Park will host the sprinters the following night. Sprint car fans on both sides of the Red River (OK/TX border) need to mark their calendars for July 24th as the Southern Oklahoma Speedway will play host to the first ever "Summer Sprint Shootout"!
About the Ameri-Flex Hose & Accessories / Oil Capital Racing Series -
Established in 2002, the Ameri-Flex / OCRS series sanctions dirt track sprint car racing in the southern region of the central plains with its headquarters in Tulsa OK. Events are typically held at racetracks in Oklahoma, Kansas, Missouri and Texas with an average of 22 race dates per season. Series champions include: Jamie Passmore (4), Sean McClelland (3), Mike Goodman (3), Harli White and Andrew Deal (1 each).
Website: www.ocrsracing.com
You can also checkout our Facebook page at: https://www.facebook.com/oil.series
About Ameri-Flex Hose & Accessories-
Located in Tulsa OK, Ameri-Flex Hose & Accessories is a family owned and operated company. From food grade hose to hoses for the petroleum industry, Ameri-Flex will strive to fill your needs. Ameri-Flex can build a hose to your specifications or we will assist you in creating what you have designed while you wait. Ameri-Flex has several hard to find items that some vendors can't get or find. Product can be shipped quickly and efficiently. If we do not have what you are looking for, we will direct you on where to find it. Give us a try, after all…………..
Ameri-Flex Has The Stuff That Keeps You Going!
Website: www.ameriflexhose.com
---
Article Credit: John Lemon
Submitted By: John Lemon
Back to News