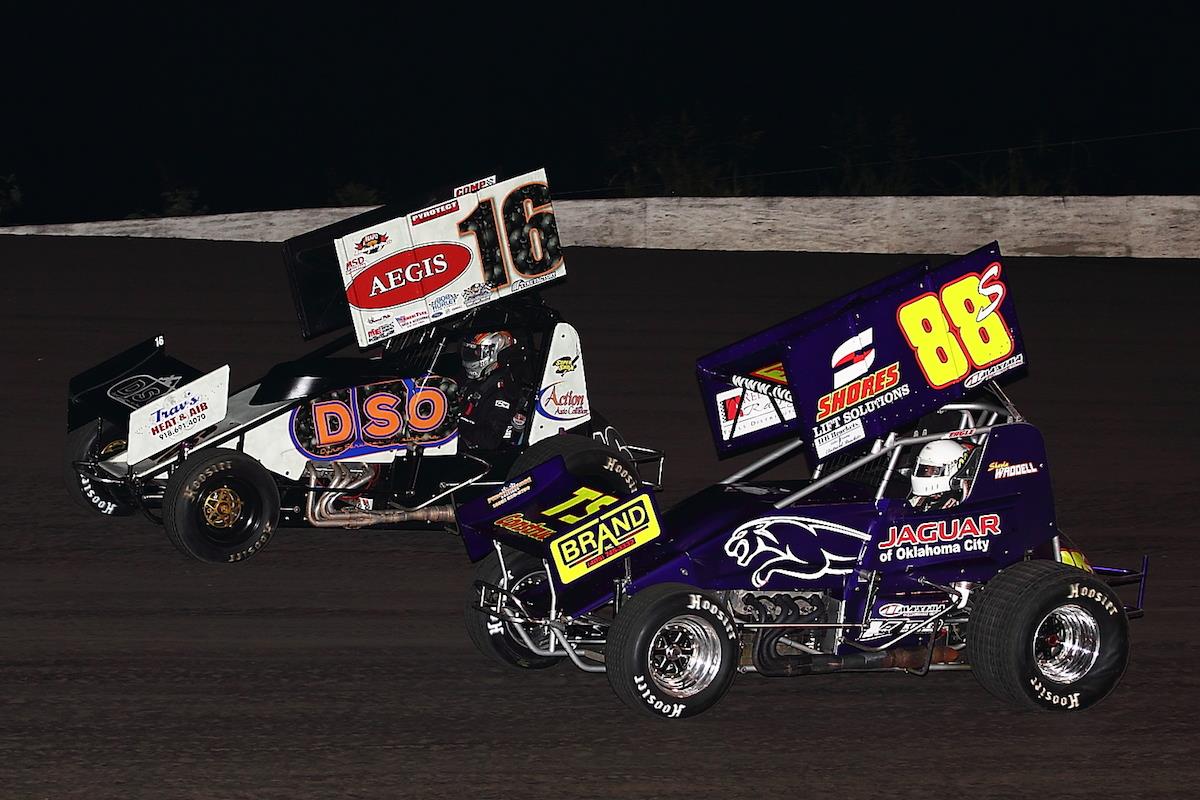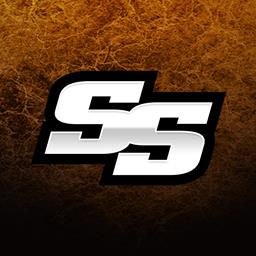 ---
AMERIFLEX HOSE & ACCESSORIES NIGHT AT OMP SATURDAY - CASH PRIZES FOR FANS
AmeriFlex Hose & Accessories Presents:
OCRS Sprint Cars @ Outlaw Motorsports Park
$1500 To Win PLUS Cash Prizes For Race Fans!
Pictured:
Shayla Waddell (88s) and Nigel Calvert (16) in previous OCRS action
Mike Howard Photo
John Lemon
OCRS Public Relations
Tulsa Okla. (September 23, 2014)- The next to last sprint car race in 2014 for the Oil Capital Racing Series takes place this Saturday night on the 3/8-mile oval of the Outlaw Motorsports Park in Oktaha Oklahoma. AmeriFlex Hose & Accessories, a Tulsa based company and a loyal sponsor of the OCRS series will be providing extra cash incentives to the participating race teams and an opportunity for race fans to win CASH!
You read that right. No discount coupons, no company issued ink pens no Frisbee's, just CASH!
The last visit to OMP by OCRS was back in April when Whit Gastineau took his second feature win in a row to start the 13th season of OCRS competition. Gastineau also won the series opener at the brand new Longdale Speedway when the scheduled season opener at the Southern Oklahoma Speedway was rained out. Jessie Hoskins, owner of Longdale Speedway, purchased OMP earlier this month.
Since Gastineau's dual victories, there have been 12 other winners in 2014 with Claremore's Alex DeCamp leading the most visits to victory lane with five. 2013 saw a series record 15 drivers collecting winning hardware in a single season. Johnny Kent has the most runner-up finishes that is still looking to earn checkered glory with two such accomplishments.
Due to the gratuitous offering by AmeriFlex Hose & Accessories, the top four OCRS drivers in the main event will earn added cash for their efforts topped by a $1500 total offering to the winner. As mentioned, AmeriFlex will provide race fans an opportunity to win cash. This will take place during intermission activities. Details will be announced to the fans in attendance during the beginning of the program.
Deal vs. Smith: Take-21
Saturday night will also see the continuation of a fierce championship battle as Andrew Deal leads Danny Smith by only 32 points heading into the 21st of 22 OCRS events for the season. Deal can sew up the right to claim the Harold Leep Championship Trophy by leaving OMP with a 96-point margin while Smith will be looking for any opportunity to slice the current deficit prior to the last event on the schedule. Keep all eyes on the number 15d (Deal) and the number 5$ (Smith).
AmeriFlex Hose & Accessories night will be a fantastic time for outdoor entertainment with a gorgeous forecast on race day at a grand racing facility. Toss in a heated championship battle along with cash giveaways and you have the perfect set up for a quality night out.
What: Sprint Cars sanctioned by the Oil Capital Racing Series
When: Saturday September 27, 2014
Where: Outlaw Motorsports Park / Oktaha, Oklahoma.
Time: Gates open at 5pm / Hot Laps at 6:30 / Racing starts 7:00pm /
OCRS drivers meeting is at 6:00 pm
Track Phone: (918) 687-7077
Promoter Chris Smith: (918) 625-6200
Tickets: General Admission: $15 / Kids 8-12, Seniors & Veterans: $10
Pit Pass: $30
Website: www.outlawmotorsportspark.com
Directions: The speedway is located directly on Highway 69 just 7 miles south of Muskogee and 11 miles north of Interstate 40 in Oktaha, OK.
About AmeriFlex Hose & Accessories:
Family owned and operated in Tulsa Oklahoma, AmeriFlex Hose & Accessories specializes in all types of hoses, fittings, adapters and other like items. Whether the need is for basic residential items on up to powerful oil drilling rigs, AmeriFlex Hose & Accessories can provide you the products needed that keep you going. Our professional detail to your specific needs along with courteous customer service skills is our number one priority. Contact us at (918) 437-7002 or checkout our website at: www.ameriflexhose.com
Checkout the OCRS Facebook page at: https://www.facebook.com/oil.series
Race fans: Be prepared to FEEL the powerful thunder of the OCRS sprint cars!
WWW.OCRSRACING.COM
---
Article Credit: John Lemon
Submitted By: John Lemon
Back to News